Observatory
Information
Size
4x4
Drops
Spyglass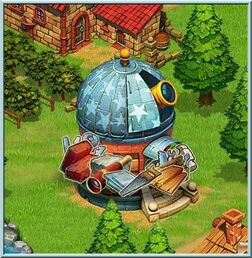 Although the Observatory is not a required building for the game, it is a desirable one to own.  Each level of order produces a higher level of building resources.
In order to build the Observatory you must complete a set of quests:

Hover on the different orders below to see the initial Build Requirements + Upgrade costs
Order Completion Rewards

| | |
| --- | --- |
| Simple Order | (10) Of each Resource (, , , ) |
| Average Order | (3)Wooden Planks (3)Bricks (3)Marble (3)Glass, (3)Hammer (3)Saws (3)Construction Packs (3)Multitool |
| Standard Order | (1)Tarred Plank (1)Trough (1)Cement (1)Brickwork (1)Construction Plate |
| Profitable Order | (1)Knight's Helmet (1)Sharp Blade (1)Spell Sword (1)Heroic Armor (1)Spare Part (there might be other items but these are cofirmed drops) |
As you can see, the rewards are pretty incredible, and well worth the steep price for starting the orders. I find the Average Order to be VERY useful!