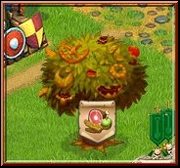 Heaven Garden
Information
Size
2x2
Placement Timer
No timer
Drops
Sky Bagel, Sugar Pretzel, Gingerbread Flower, Cornucopia
The Heaven Garden is a source of food for your kingdom.
This essentially replaced energy demand in the game.
Your first Heaven Garden is unlocked at Castle level 6.

You can build two Heaven Gardens at this point. A third and fourth Heaven Garden can be built at Castle Level 7. Once you reach Castle Level 8, you are able to build a fifth Heaven Garden.

Hover on the different orders below to see the initial Build Requirements + Upgrade costs