470 articles & 5,018 edits since 30 September 2014.

~ Made for players, by players ~
➽The development of this site is currently suspended.
Please feel free to use it or contact the admins if you are interested in taking a hand in construction.
Welcome to Fairy Kingdom Wiki!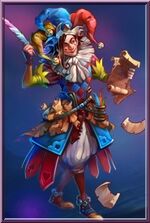 ♦ Hear ye, hear ye! ♦
Welcome one and all to the Fairy Kingdom Wiki! The unofficial guide to Facebooks newest game by Game Garden!
If you are seeking a new game with rich, beautiful graphics, that doesn't require 100s of neighbor visits daily, that isn't non-stop farming or waiting days for crafts to finish, where you won't have to request items from your neighbors- Then look no further.
Fairy Kingdom is a hybrid game; part resource management & part city building.
And best of all? NO ENERGY BAR! Click as much as you like, as often as you like!
Explore, learn and restore your Enchanting Kingdom to its former glory!
Come join us @ Fairy Kingdom Gazette
Contents
Helpful Links:
To visit the Fairy Kingdom Fan Page on Facebook Click HERE!
To Contact Support: support.fk@game-garden.com
Community content is available under
CC-BY-SA
unless otherwise noted.